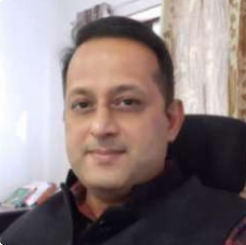 Managing Director (BNYS, M. Sc, PGD Panchakarma and MBA)
Dr. Shyamaraja Nidugala, a practitioner of health and wellness management from India, has developed 'a holistic approach to wellness'. Combining the best of ayurveda, yoga and naturopathic principles with contemporary medical practice; he has developed unique lifestyle and therapy solutions.
He is a graduate of naturopathy and yogic sciences from Rajiv Gandhi University of Health Sciences – Bengaluru, and a post graduate of yoga therapy and health care management from Manipal University. He has obtained professional training in ayurveda, panchakarma and special therapies sponsored by Kerala Ayurveda Academy.
He began his career at SDM naturecure hospital – Shantivana, Dharmastala , later he served as medical officer/ asst. professor at SDM Ayurveda Hospital – Udupi and as the chief medical officer at SDM Yoga and Naturopathy Hospital – Pareeka, Udupi. He has been a consultant for holistic health for True Concepts Ltd. – a multinational wellness organization; and travelled several countries like Singapore, Taiwan and Hong Kong. He served as director of Zen Holistic Wellness Pvt. Ltd. Bali, Indonesia – an international organisation which promotes positive lifestyle changes and traditional holistic therapies.
He has experience of organizing several yoga and naturecure health camps and has published research papers in various national and international journals. He published a book on holistic detox titled "Clear-Out – A Vital Holistic Detox Guide", a book on Yoga titled "Yoga with Therapy Technique"; and a handbook on Yoga and Naturopathy titled "Simple Way to Better Living".
He studied in Dr. MGR Medical University graduate in Naturopathy and Yogi Sciences with a certificate in Ayurveda Marma and Panchakarma Treatment. He has 15 years of experience in clinical Naturopathy and wellness roles all over India and in other countries too by providing the understanding of global healthcare system crisis and the importance of preventive strategies in health promotion. He gained the knowledge about Clinical Naturopathy, Ayurveda, Nutrition, Functional Medicine and Epigenetic Modification Coaching.
She is an Integrated Wellness Consultant with 13 years of expertise in Functional Medicine, Ayurveda, Wellness Nutrition, and Life Coaching. She holds degrees in Naturopathy and Yogi Sciences, as well as a PGDPM from Rajib Gandhi University of Health Sciences. She acted as a role model by actively participating in fitness and non-competitive activities that emphasized team sportsmanship, physical strength, endurance, and flexibility. She has conducted an effective training programme for a wide range of clients. She has worldwide client handling expertise, has designed strength training classes, and has led lifestyle management retreats.
Mr Yash Rastogi is a yoga expert and he achieved a milestone on the path of spirituality by exploring the inner nature of being human and he hold a Bachelor' degree in yoga from Shoolini University.Additionally, He has completed his masters in yoga from India best yoga's university (Dev Sanskriti Vishwavidyalaya). He is completely absorbed with his deeper divine intuitive power to help you out to bring your natural vibrancy and serenity in the amidst of nature. He's a good counsellor (yogic counselling ), master of meditation and a yoga therapist.
Mr Krishna Kumar has vast experience of 11 years in practising various forms of yoga. He worked with the top naturopathy hospitals ie S-Vyasa yoga University Bangalore, SDM Nature cure hospital pareeka and Nimba Nature cure hospital Mehsana etc. He has completed his masters in yoga from No -1 University in yoga (S-Vyasa yoga University Bangalore). He's a good counsellor (yogic counselling ), master of meditation and a yoga therapist.